Jersey may ship ash waste to UK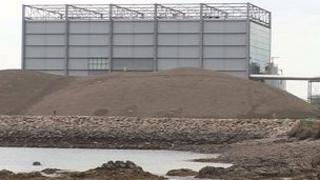 Jersey could soon ship 4,000 tonnes of ash waste to the UK for disposal, according to the island's environment minister.
The waste is being held in the island while the UK Environment Agency considers whether to allow it into the country.
Deputy Rob Duhamel says Jersey should look at ways of recycling the waste.
He said it could be turned into a glass-like substance which could be used by builders.
The minister said that at the moment that option was too expensive, but that his department would continue to look at ways to make it happen.
Deputy Duhamel said he agreed with the findings of a report that suggested a large proportion of the waste produced by the incinerator could be recycled and used in the island or elsewhere.
Deputy John Young led a review in December into what to do with the waste material.
He said just putting ash into pits at La Collette was a poor use of land. He said it should be recycled and reused.
Transport Minister Deputy Kevin Lewis said it cost £1m a year to produce pits to store the ash.