Jersey fibre broadband plan 'behind schedule', says minister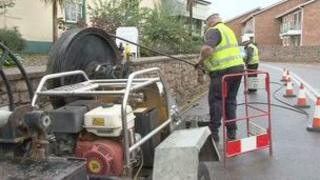 Jersey's Treasury Minister has put pressure on telecoms firm JT to speed up installation of superfast broadband in the island.
The firm was criticised in the States that its work, which the States backed with £20m, was behind schedule.
JT predicted 3,505 homes would sign up in the first year of the five year project, but as of 31 December, 1,737 were connected.
But, JT CEO Graeme Millar said he was comfortable with the progress.
He said the project was on schedule for 2016 as planned and within the £41.5m budget.
'Acceleration of connections'
However, treasury minister Senator Philip Ozouf, told the States : "Clearly there has been an issue with the subcontractor, and that is commanding the attention of the board, and I have met JT three times in the last week in resolution of this issue and I expect them to resolve it.
"But the project must be delivered, it must be delivered within the budget and I want an acceleration of connections and I am pressing JT to achieve that."
Mr Millar explained however, that delivering the project in full, was not in doubt.
"The fact that the number of homes connected in the first year is lower than we projected at the outset seems to be prompting questions about the project's success," he said.
"We need to put that in context."
He said fibre-optic cables had been laid past more than half of the island's homes, passing 26,115 homes by 31 December instead of the planned 9,628.
"The project has another 48 months to run, which is plenty of time for us to accelerate the process of connecting homes, and complete the project on time and budget," said Mr Millar.