Jersey 'abuse graffiti' raises concerns in island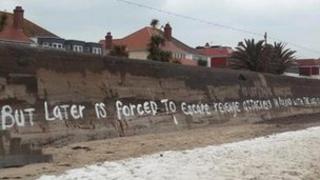 Graffiti on a Jersey sea wall, which alleged instances of sexual abuse, has raised concerns among islanders.
The lettering, which detailed accusations against three named people, was painted along hundreds of meters of sea wall in St Peter and St Aubin.
Some beach users said they were shocked and upset about the writing near the Gunsite slip, while politician John Refault said he was concerned.
He said that whoever wrote it may be in need of care, and should be helped.
The Transport and Technical Services Department removed the majority of the graffiti, which was left some time overnight on 18-19 January.
Jersey Police said they had no record of complaints against the people named in the writing.
Constable Refault said he felt the person responsible for writing along the wall needed to be assisted rather than prosecuted.
Monsignor Nicholas France, the head of the Catholic church in Jersey, added that he worried the writing could be a cry for help.