Tuula Hoeoek murder: Jersey Police reinvestigate 1966 case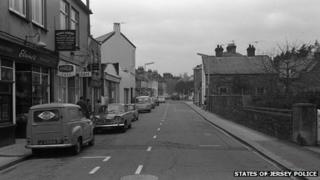 Police are reinvestigating the murder of a Finnish au pair in Jersey 46 years ago.
Tuula Hoeoek, who was 20 at the time of her murder, was found on New Year's Eve 1966 at the entrance to a field at Rue Laurens in St Clement.
A Jersey Police spokesman said despite extensive police inquiries at the time, the murder had never been solved.
Miss Hoeoek was last seen waiting at a bus stop in Georgetown in St Saviour on 30 December 1966.
'Unload the burden'
Police said she had been on her way to visit friends at the Pontac Hotel in St Clement.
A spokesman said it was raining heavily on 30 December 1966 so it was believed she might have accepted a lift from someone.
He said Miss Hoeoek had suffered severe head injuries.
The spokesman said it appeared she had been beaten with a "heavy implement", but there was no obvious motive for her killing.
Det Insp Lee Turner, said: "I firmly believe there is someone living in Jersey today who holds vital information as to what happened to Tuula that night who has not yet come forward."
He said she had been working in Jersey in the summer of 1965 before returning to Finland to continue her studies.
Her family told the police she had fallen in love with the island and returned the following summer.
Det Insp Turner said: "Perhaps someone returned home that night or the next day acting strangely or out of character, perhaps even with injuries, or blood or mud on their clothing or vehicle.
"Perhaps their personality changed over the next few days or weeks, or even in the months or years that followed."
He said: "It is time to come forward, to unload the heavy burden of having kept such information for so long, and to help us end the long and tortuous suffering of Tuula's family, and to bring justice for Tuula herself."