Ex-Jersey Centenier Ralph Mauger jailed for child abuse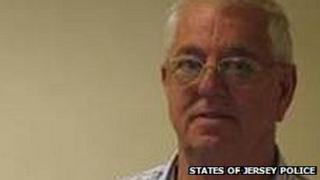 A former Jersey honorary police officer who was chosen to carry the Olympic torch has been jailed for 30 months for indecently assaulting young girls.
Former Centenier, Ralph Mauger from Grouville, was convicted of five counts of indecent assault last month.
The prosecution had asked for a five years sentence, but Judge Julian Clyde Smith said it was a substantial term for a 77-year-old man.
Centeniers are senior members of the honorary police force.
They are the only officers in Jersey able to charge and bail offenders.
Mauger will be on the sex offenders register for five years.
The charges at Jersey Royal Court related to offences committed on girls between 1998-2006.
'Immense courage'
Mauger will also have to pay £35,000 in legal fees, and £5,000 each to two of his victims.
A hearing into compensation for the third victim will take place next month.
Det Insp Paul Kennea said: "We recognise the immense courage of the victims in coming forward and giving evidence in this case of very serious crime, and we hope the verdict and today's sentencing will help them in coming to terms with what has been an extremely difficult time.
"States of Jersey Police takes this crime very seriously and is committed to thoroughly investigating all allegations of abuse and violence."
Mr Kennea added that the force "will provide all the support and help we can to victims who report offences to us".
Sharon Copsey, from the NSPCC, said: "Any offender with a history of child sex abuse should be considered a risk to children's safety for the rest of their lives and it is right that Mauger has been put behind bars.
"So much abuse goes unreported and it must have taken a lot for these victims to come forward and give evidence.
"By bravely speaking out, Ralph Mauger's victims have given others the courage to report child abuse they have suffered themselves, or to make known their concerns that a child is being sexually abused."
Mauger was chosen as a Jersey Olympic torch bearer but pulled out after the charges were brought in March 2012.