Jersey States members vote not to debate pay rise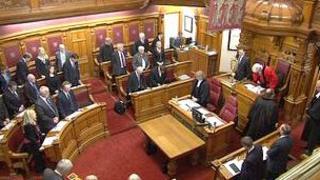 Jersey politicians voted not to debate a pay rise decided for them by an independent board.
Under States rules, an order preventing politicians discussing their pay would have to be lifted, but members voted against doing that by 31 votes to 16.
Constable Sadie Rennard said there was no moral justification for the £818 pay rise this year, bringing pay before expenses to £42,000 a year.
She said other pay groups were facing wage constraints.
The panel that recommends States members' pay said it was a difficult balance to strike but the rise was "modest".
It recommended a pay rise of £1,000 in 2009, no pay rise in 2010, an £800 increase last year and no rise in pay for 2012.
It said it was a 4.6% increase over four years, but an average of 1.1% a year which was below the average inflation rate for the same period of 2.5%.
A number of politicians said they should not question the recommendation of an independent body and States members did not have to accept the pay increase anyway.
Deputy Montfort Tadier said the decision on pay had to remain out of their hands.
He said: "No we have not voted to give ourselves a pay rise... or a pay cut because actually we do not decide that anymore.
"We are essentially self employed but we are servants of the island... I want to be able to look the public in the eye and say no I have not given myself a pay rise."