Jersey States electoral change to go to public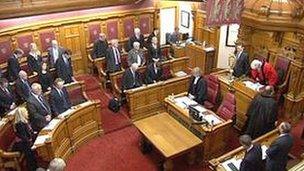 Final proposals for changes to how the States of Jersey is elected are due to be decided in a referendum.
The Electoral Commission has released a final report after its initial findings were put out to public consultation.
It has suggested the government be reduced from 52 to 42 members and the island be split up into six equal electoral districts.
The commission has also recommended condensing the roles of senator, deputy and constable into just one.
Currently senators serve for either six or three years while deputies and constables serve for three years.
If the commission's proposals are accepted the assembly would consist of either solely deputies or a mix of deputies and constables - all of whom would serve a four-year term.
All would be elected in a single general election after the panel concluded that the chance to pass judgement on a government outweighed the benefits of staggered elections, which the island operated before 2011.
The panel, made up of three politicians and three members of the public, has put forward suggested questions for the referendum.
A leaflet, explaining the findings, is due to be sent to all households next week.
The commission reported the main argument for removing the role of constable from the States was to ensure everyone was elected on a similar basis.
The constables are elected by parish and the elections are not always contested.
The panel said the number of eligible voters in St Helier exceeds the number of eligible voters in the eight smallest parishes.
Concerns were also raised over the separate mixed responsibilities of the constables, who have parish duties as well as their States work.
The commission found constables took on fewer positions of senior responsibility in the assembly.
However, it mentioned this would need to be balanced against concerns that if the role of the constable was diminished, by removing them from the States, the parish and all that it represents could also be diminished.
If large electoral districts were introduced retaining the constables in the States would ensure the continuity of parish representation.
The panel said in the neighbouring island of Guernsey, where parish representatives were removed from the government in 2004, the parish has become a less important institution than it is in Jersey.
It added that it was arguable as to whether one is a consequence of the other.
Related Internet Links
The BBC is not responsible for the content of external sites.