Jersey's bus company in timetable blunder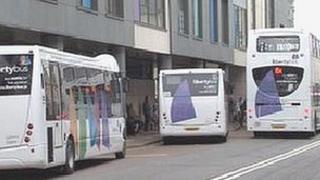 Jersey's new bus operator is having to change its timetable after not allowing enough time for buses to get from the airport to the bus station.
CT Plus, operating as LibertyBus, took over from Connex who had run the service for 10 years on 2 January.
Route 15 runs from Jersey Airport via the bus station in St Helier to the Le Marais housing estate.
Service manager, Kevin Hart, said when working out the route they did not look at traffic levels during peak times.
Teething problems
From Monday the timetable will change to allow for the extra time drivers need during heavy traffic.
Mr Hart said: "Where we went wrong was peak times. The days we assessed it it wasn't heavy traffic."
There were fears the timetable was too ambitious after some buses ran late and new drivers were unsure of routes.
The company warned passengers to expect teething problems, but promised to fix them within two weeks.
Mr Hart apologised and thanked people for their patience while the company sorts out the problems.