Cap on Jersey population possible says minister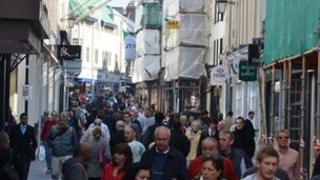 Jersey's population could be capped as the government reviews how many people can live and work on the island.
The States will ask people for their views on how to control population levels ahead of a debate in March.
Assistant Chief Minister, Senator Paul Routier, says every idea to deal with the situation will be considered.
Gerard Fletcher, from the Jersey Hospitality Association, says it is vital people not from Jersey continue to work on the island.
The annual social survey, published in December 2012, found people wanted the government to tackle migration as a priority ahead of providing affordable homes and jobs.
A new population model published by the States in September 2012 showed that there could be 120,000 people living in Jersey by 2035.
The latest figures, from June 2012, showed there were about 98,000 people living in Jersey.
Population cap
Senator Routier said a population cap was not out of the question.
He said: "There is a mixed message which needs to be got out, there is an opportunity for people to come to the island as long as they are bringing value to the island.
"I think we are going to look at all options whether it be a cap or whether it be a more open policy, it is just about finding what the population wants."
Environmental campaigner, Dr Mark Forskitt, said the island had reached saturation point in population growth.
He said he was shocked by the figures and concerned at the strain it would put on island services.