Christmas tree record bid by Jersey Hospice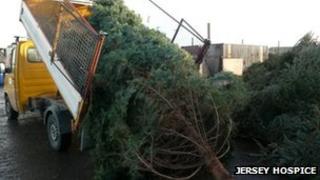 A record number of Christmas trees is expected to be collected by the Jersey Hospice to raise money for the charity.
In 2012, 1,639 trees were collected to be recycled, which raised almost £25,000.
Islanders can arrange to have their Christmas tree collected in return for a donation to the charity, and all the money raised goes to the hospice.
The charity has about 60 volunteers picking up the trees from across the island.
Jersey Hospice provides free palliative care for patients with cancer and motor neurone disease. Its running costs are more than £6,000 a day.
The volunteers collected the Christmas trees from businesses on Wednesday and Thursday and from homes on 5 and 6 January.