Jersey referendum on future of States due in April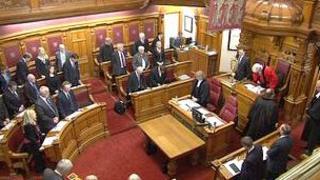 People in Jersey could vote on the future of the States by the end of April, according to the electoral commission.
If approved the referendum on how politicians are elected and the make-up of the parliament will be on 24 April 2013.
The commission has been working throughout 2012 on the proposals.
The final report will be presented to the States committee responsible on Thursday 10 January.
After being presented to other politicians, the commission will explain its proposals and publish a final report on 11 January.
April referendum
Commission chairman, Senator Sir Philip Bailhache, said: "At the launch we will also be setting out the proposed timetable for the next stages of the reform process, including the referendum that we are recommending should take place on Wednesday 24 April 2013.
"Our final report gives the actual text of the referendum questions that we are proposing."
The commission will also be issuing a summary leaflet of its final proposals that will be distributed to every household in the island the following week.
An initial report included a reduction to 42 States members from the current 50, a change to six super constituencies, four-year terms and the possible removal of senators and constables from the assembly.