Jersey's new bus service has 'teething problems'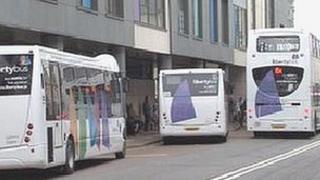 A spokesman for Jersey's new bus operator CT Plus has apologised for "teething problems" with the new service.
A woman told the BBC that a school bus from La Providence, St Lawrence, to Les Quennevais School did not arrive.
She said six children waiting for the school bus had to walk to Bel Royal to catch another service earlier.
The CT Plus spokesman said as it was the first day of the school bus service there may have been teething problems.
It followed problems on the first day of the service on Wednesday, where a number of islanders complained on social media sites that they had missed buses or they were running late because drivers could not use the new ticket machines.
The company spokesman said: "Every driver has been given familiarisation training on the ticket machines which are completely new.
'Matter of days'
"As most of the company's employees have only just transferred to CT Plus, allowing the training to take place, they are working hard to get to know the new system.
"We expect everyone to be up to speed in a matter of days."
The spokesman also said that the company's telephone services were not activated in time, so many people calling for information had not been able to get through.
He said a lot of work had been carried out with suppliers including JT in advance but, due to equipment failure beyond the company's control, people initially calling for information had not been able to get through.
He said they had finally been connected on Wednesday evening.