Former Jersey States member Dick Shenton dies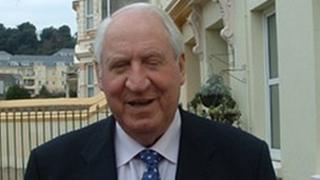 The former Jersey politician Dick Shenton has died at the age of 86.
The former senator, who topped the island-wide senator poll several times, had cancer and died in the early hours of Wednesday morning.
Mr Shenton was first elected to the States in 1969, he served as a politician for 30 years.
During his time as a politician he was the president of the Agriculture and Fisheries, Island Development and Tourism Committees.
Mr Shenton was born in Jersey in 1926 and lived through the German Occupation.
'Political colossus'
After serving in the RAF and living in Canada for six years he returned to Jersey and ran a stevedores firm at the harbour before standing for the States.
He was also known for his charity work and he was awarded the Knighthood of the Holy See for his service to the Roman Catholic church.
Jersey's first Chief Minister, Frank Walker, worked as a deputy and senator alongside Mr Shenton in the States and said it was exciting working with him.
He said: "Even though not entirely unexpected it still comes as a huge shock that such a huge man in every way, physically, and a political colossus, has actually passed away.
"It seems difficult to believe and I'm sure the island will generally be very sad at the news."