Jersey's Connex bus workers in 24-hour strike action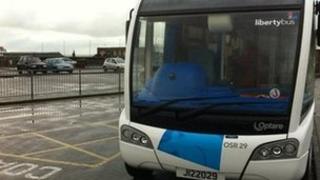 Jersey bus workers have begun a 24-hour strike over changes to their terms and conditions when operator CT Plus Jersey replaces Connex in January.
The union Unite balloted 82% of the workforce and 87% of those balloted voted in favour of the action.
Drivers say they are unhappy with the terms and conditions in their new contracts.
Transport and Technical Services (TTS), which regulates the bus service, said the strike was unfair to passengers.
The strike started just after 07:00 GMT when the first buses would usually start running on a Sunday.
CT Plus is taking over Jersey's bus contract from 2 January and is re-employing drivers from Connex who have run the service for 10 years.
One driver said some of them would lose at least £100 a week as a result of limits on working hours.
Second strike
John Rogers, the chief officer of TTS, said his department had tried to make the transition to the new operator as smooth as possible.
He said: "We have employed more people and part-time workers have become full-time workers. We have done everything we can to facilitate this transfer."
But a spokesman for the bus drivers disputed this, and said the staff wanted to apologise to passengers.
"We are very, very sorry. We never want to strike but since October we have been trying to enter into negotiations or even just sit down and talk with TTS," he said.
"But their last press release said 'we are not going to do anything about it', so if they are not willing to talk to us how can we sort anything out?"
Mr Rogers said TTS would comment again on Monday after the strike ended.
A spokesman for Connex said: "[We] would like to stress that it is very disappointed to end its 10-year relationship with Jersey with such a regrettable event and hopes that all its regular passengers will find an alternative solution for their transportation during that day."
A spokesman for CT Plus Jersey said the company would not be making a comment on the strike action.
This is the second strike over the changes. Bus workers also walked out for two days in October.