Jersey coast road collapse 'to take days to repair'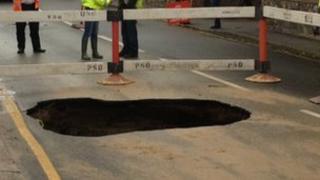 Part of Jersey's St Clement coast road is expected to be closed for several days after it collapsed when a lorry drove over it.
Jersey Police said the collapse had created a hole 15ft (4.6m) deep near Avalone Park.
A spokeswoman said engineers have assessed the site and expect the repairs to take a number of days.
The road has been closed between Rue de Samares and Rue De Maupertuis and drivers are being diverted.
Officers said the road was waterlogged and warned drivers there could be further collapses in the area.