Jersey travel card to be called Avanchi after pupils vote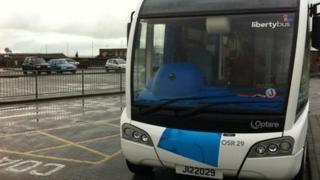 Jersey's pre-pay travel card will be called the AvanchiCard after a vote by island school children.
LibertyBus, which will take over the bus service on 2 January, said the new smart card would be introduced later in the year.
Jersey pupils were given the chance to name the card in a competition run through schools.
The final three choices were Gold Card, Vivre Card and the winning entry AvanchiCard.
Avanchi is the Jerriais word for advance or to move forward and was suggested by Sophie Venton from Grainville school. She will be given an AvanchiCard with a year's free bus travel.
CT Plus marketing manager Francesca Rotheram said: "It is excellent that Jersey's school children have been involved in the island's public service transport sector.
"We wanted to give the island's children a great opportunity to practice making group decisions and of course, the process of fair voting, all encompassed under a fun project and in keeping with our community driven ethos."
CT Plus, operating as LibertyBus, take over from Connex, who have run the service for 10 years.