Michael Calvert jailed for St Helier knife attack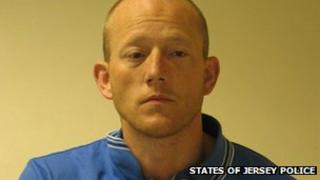 A man has been jailed for five years after slashing another man with a knife in a row over money.
Michael Thomas Calvert, 34, originally from Liverpool, was also found guilty at Jersey's Royal Court of trying to escape custody.
Witnesses described him "raining down blows" on his victim during the attack in St Helier on 18 April.
He admitted possessing an offensive weapon, malicious damage and attempting to escape custody but denied affray.
Jersey's Royal Court heard the attack led to an armed response from the police who closed off part of St Helier after passers-by heard the man's screams.
Calvert chased the victim from Hope Street into the grounds of the Parish Church, where he launched the attack.
The victim had abrasions to his face, chest, elbow and hip.
'Had a complex'
Calvert was later caught by police as he tried to get into a taxi in a blond wig with a ponytail and glasses.
He told the police he was wearing the wig because he had a complex about becoming bald.
The Attorney General said by the time Calvert came to trial he had changed his story twice.
The Judge, Deputy Bailiff William Bailhache, said it was a serious incident in the middle of a busy town street that scared the public.
He said the five-year sentence was meant as a deterrent that such violent behaviour "would not be accepted in Jersey."