WWII letters from German soldiers delivered 71 years late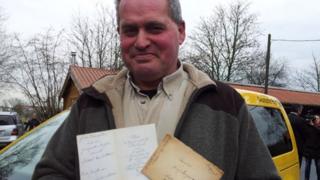 Christmas messages written by German soldiers stationed in Jersey during WWII have been delivered 71 years late.
In 1941, mail was stolen from an army post office in St Helier by a group of teenagers as an act of defiance against the occupying Nazi forces.
On Tuesday, farmer Engelbert Bergmann, 55, from Frankfurt, received a letter written by soldier Emil Adam, a neighbour of his grandfather.
He said it meant a lot to receive the greetings card.
Mr Bergmann said: "I feel it is very important to have the other letters delivered in these cases where family or sons and daughters are still around."
The letters were hidden in for 66 years before they were brought to the Jersey Archive five years ago by a man who wants to remain anonymous.
'Long process'
So far 10 of the 90 letters have been delivered and Jersey Post said it would continue to work with Deutsche Post to deliver as many more as possible.
Felix Blaich, from Deutsche Post, said work began in September to track the families down.
He said many people had moved or were no longer alive, some were addressed to PO Box numbers which no longer existed and others were marked for places which were not part of modern Germany.
Mr Blaich said: "We had to translate the old street names into the 2012 addresses.
"Then we found out that not many of the addresses had people living with the same name any more so we used our address expertise, our databases, our military mail experts as well as registry offices."
Jersey was occupied by Nazi forces from 1940-1945 during WWII.