Jersey paedophile gets two years for indecent images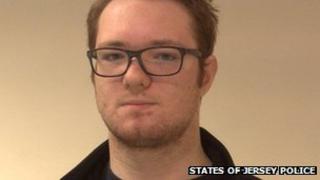 A man has been jailed for two years for downloading more than 3,000 indecent images of children.
Jersey's Royal Court heard Edward Jonathon Le Galle, 20, from St Helier, had a sexual attraction to young boys.
Le Galle started looking at indecent images of children when he was 14, the court heard.
He had more than 2,500 images and more than 500 movie files with 20% in the two most serious categories. The images featured children as young as five.
'Disgusting images'
The Crown argued there was a high chance Le Galle would re-offend and pushed for a prison term.
Le Galle pleaded guilty to two counts of making indecent images of children.
His defence lawyer argued his young age - most of the images were made when he was 18 to 19 - should be taken into account.
Judge Sir Michael Birt told the court the crimes were not victimless, real children had been involved in making "disgusting images".
Sir Michael said it was to Le Galle's credit he had owned up but the seriousness of the crime made prison unavoidable.
He said: "Those who watch such images fuel demand and encourage more people to go on making pictures.
"It is not a victimless crime, real children are involved in making these pictures."