Jersey deputy wants ash turned into building material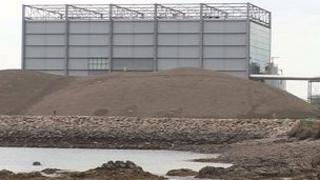 Jersey's waste could be turned into building materials to stop the build up of ash, according to a deputy.
Deputy John Young is leading a group of politicians reviewing how to deal with the growing mound of ash at the incinerator.
He said just putting the ash into pits at La Collette was not a good use of land.
Transport Minister Deputy Kevin Lewis said it cost £1m a year to produce pits to store the ash.
Deputy Lewis said there were two types of ash, the safer kind that is put in pits and the kind that normally goes up the chimney.
Exporting ash
He said the second kind had the toxins and the government had put an application in to have that ash exported to the UK.
Deputy Young said Jersey produced 20,000 tonnes of rubbish that once incinerated added to the ash pile. He said something had to be done before it reached the sea.
Leading a scrutiny panel review of how to deal with the ash, he said the panel decided it should be recycled and reused by the building industry.
He said: "If we can produce the right quality and find commercial partners we can build up a market to achieve this.
"The environment minister wants a sustainable solution and the transport minister wants a technical workable solution.
"We get land, potentially available for reuse and it is more sustainable, there are no legacies for future generations to deal with."