Jersey politicians reject cap on buying Plemont headland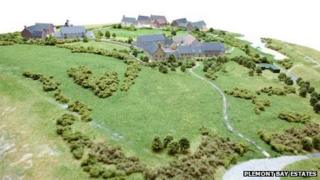 Jersey politicians have rejected calls to limit the amount of money spent on buying the Plemont headland.
Deputy Gerard Baudain asked the government to agree to buy the land only if it cost less than £8m.
The States is debating buying the former Pontins holiday site to stop homes being built there.
If approved, the States could use compulsory purchase powers to buy the land from owners Plemont Bay Estates who want to build 28 homes.
Loan rejected
The debate started on Tuesday with members first voting on a number of amendments.
Discussions continued on Wednesday but politicians decided to end just before 18:00 GMT and continue on Thursday.
Earlier plans to give the National Trust for Jersey a loan were rejected after the trust said it would not be able to afford to pay it back in full.
It was originally proposed by Deputy Geoff Southern, who said the trust should pay the money back to the States over 10 years. Deputy Jeremy Macon tried to have the time frame changed to 50 years but both were rejected.
If the States agrees to buy the Plemont headland, the National Trust for Jersey would pay up to £3m.
Preserving the Plemont headland, which is part of Jersey's seabird protection zone, has been the subject of a major campaign by the National Trust for Jersey.
The debate was stopped early on Tuesday so Chief Minister Senator Ian Gorst could discuss with the National Trust how much it could contribute.
He said the charity could not afford a loan so he brought an amendment to his own proposition raising the trust's contribution from £2m to 50% of the cost up to £3m.
In a report sent to States members, Treasury Minister Senator Philip Ozouf said the land had been valued at £4m but that the total cost through compulsory purchase would be £5.5m.
The developer has previously said the land is worth £14m.