Cheque helps Jersey's soup kitchen beat its 2011 total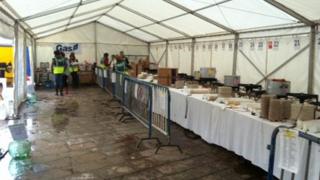 The annual Jersey soup kitchen has raised more than last year's event after a last-minute donation from a supporter.
Philip Le Claire, from the Shelter Trust, said the event had raised £11,650 compared to £11,544 last year.
He said at the end of the event, they were £100 short on last year, but David Gainsborough Roberts, wrote a cheque for £250 to make up the shortfall.
Mr Le Claire said it was "truly amazing".
Restaurants from across the island join schools and the States of Jersey kitchen in donating soups for the event.
He said: "We were in the Royal Square in the driving torrential rain on Tuesday last, convinced that even the hardiest of our supporters were going to be put off by the horrific weather.
"In the end, people braved the elements and we very nearly reached our total from last year.
"To hear now that Mr Gainsborough Roberts has stepped forward to make up, and indeed exceed the total, has really made our day."
The soup kitchen has been running for 14 years and raises money for the Shelter Trust, which can accommodate more than 80 homeless people in Jersey every night.
About 400 people use the services of the trust each year, which included advice and support for those at risk of homelessness, and a resettlement service which supports its former residents.
Mr Le Claire said every year the charity needed to raise about £400,000 to run the service.