Jersey's squirrels are 'not severely inbred', a study finds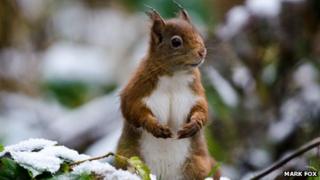 Jersey's red squirrel population is not severely inbred, according to a study.
The Jersey Society for the Prevention of Cruelty to Animals (JSPCA) has paid for a study into the origin of the island's red squirrels.
The study found those in the east of the island are of French descent, and those in the west have English origins, while those in the middle were mixed.
There have been red squirrels in Jersey since they were introduced in 1885, but there are no grey squirrels.
In the UK, red squirrels are endangered because of competition from grey squirrels.
The study was carried out by the Durrell Institute of Conservation and Ecology at the University of Kent.
'Dear creatures'
Major Steven Coleman, chief executive of the JSPCA, said the study aimed to find out if the squirrel population had started to inbreed.
He said: "Jersey has one of the few closed red squirrel populations left, but we don't suffer any of the problems they have in the UK with squirrel pox and greys overwhelming the red squirrels habitats.
"It is vitally important that we keep a track on these dear creatures."
The study also found there had been an increase in the number of squirrels in Jersey because the trees they relied on had come to maturity, and people left out food on their bird and squirrel feeders.
Major Coleman said the research would continue if funding was available.
"We are looking to continue with a proper population study and perhaps further studies into the genetics," he said.
He is asking islanders to take any dead squirrels they find to the Animals Shelter in St Helier.