Jersey senator says discrimination claims 'a wake up call'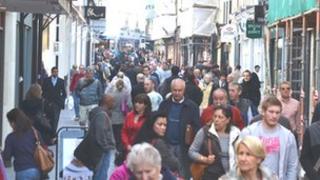 A survey suggesting one in four people in Jersey have been discriminated against is a wake up call says the Social Security Minister.
Senator Francis Le Gresley said the States was working to introduce an equality law, early next year.
The 2012 social survey showed 25% of respondents felt they have been discriminated against in some form in the past year.
Nearly 2,500 households responded to the survey in June.
For example, more than a third of people born in Portugal and a quarter of Polish nationals living in the island said they had been unfairly treated because of their race.
'Culture clash'
The survey results also show that the most common place people say they experience discrimination is at work, including from civil service staff working in States departments.
Catholic Dean of Jersey, Monsignor Nicholas France, said he runs masses for members of the Polish and Portuguese community in Jersey and said people had come to him for advice over discrimination.
He said it was often to do with a culture clash.
"Culture does matter, the way people sometimes speak can be abrupt in one language and in another language they will go around in circles," he said.
"We are all different and sometimes one way can irritate one person or another."
The States has been working for 12 years to introduce an equality law and Senator Le Gresley said it will be brought in in stages, starting with racial equality.
He said more needed to be done to tackle unfair treatment in the island.
Nearly one in ten islanders believe they have suffered age discrimination.