Jersey States worker pay deal 'is final'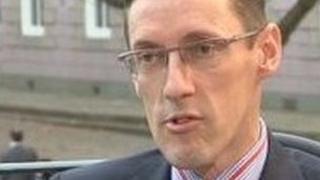 The latest pay deal offered to States workers in Jersey is final, according to the chief minister.
Speaking in the States, Senator Ian Gorst said the bargaining process had been exhausted with no room for debate.
He said this left no practical alternative other than to bring in the final pay offer for eligible public sector workers.
The Public Sector Unions have responded saying they are extremely disappointed and are seeking legal advice.
Anne Southern, representing many of Jersey's unions, said their rights were not being recognised.
She said her members wanted a 4% pay rise in line with inflation.
Senator Gorst has offered States workers a 1% rise for the next two years and a 1% lump sum payment.
Senator Gorst said: "The economic conditions facing Jersey mean we can not offer a higher pay award if we are to meet the priorities agreed by members - creating jobs, maintaining employment and investing in health and social services."
That offer does not apply to nurses, whose pay offer has changed.
States nurses have been offered a 1% lump sum in 2012, a 3% increase in 2013 and a 4% increase in 2014.
Mrs Southern, from the National Union of Teachers, said the unions would now ballot members on industrial action.