Jersey homes hit by hail storms and lightning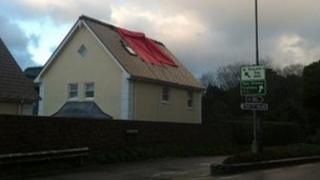 Homes were struck by lighting and roads blocked by debris in a night of hail and thunderstorms in Jersey.
A house in St Brelade was badly damaged after being hit by lightning on Tuesday evening but nobody was hurt.
The lightning caused damage to both sides of the roof and the chimney was completely destroyed, falling inside the roof of the house.
Police also closed Mont Fallu in St Peter because of a fallen tree and mudslide.
Rubble was strewn across Mont Sohier and the road was closed off by the Honorary Police while the fire service tried to secure the rest of the roof.
The fire service worked at the scene until after midnight.