St Helier shuttle bus service could be reintroduced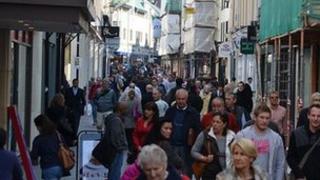 The reintroduction of a "town hoppa" bus service will be examined by St Helier officials.
Richard Mackenzie, the town centre manager, said the move would be looked at as part of a wider initiative aimed at improving Jersey's capital.
A shuttle bus to and from the town was trialled in 1999, and campaigners have been calling for its return since.
Mr Mackenzie said he would also investigate offering more parking without scratch cards in St Helier.
He said both initiatives had been popular with shoppers, and that he had taken inspiration from other areas.
He said: "I've seen it in towns like York and it works really well, where they've got the narrow streets that we have, with the constraints of the car parks around the outside."
The issue of a shuttle bus was brought up earlier in the year, when campaigner Sue Le Vasconte issued a plea for the return of a "hop-on hop-off" service.
At the time she said the Senior Citizens Panel had campaigned for the service, but had not been listened to.
States member Deputy Geoff Southern announced in November that he wanted money set aside for Jersey Finance Limited diverted into sustainable transport policies and a hoppa bus.
The plan gained little support in the States, but the island's new bus operator CT Plus said it supported the idea.
The trial of the shuttle bus service in 1999 ended with a decision not to continue, due to high costs.
Mr Mackenzie said he felt reintroducing the service would find favour with shoppers.
He added he felt changes to parking in the town centre would also be welcomed.
He said a new parking system in the multi-storey car park, which saw scratch cards replaced with a computer system, was preferred by shoppers.
He said: "We've got a very exciting system here, which I hope will be pushed out to every multi-storey car park."