Norovirus at Jersey's Clarkson House hospice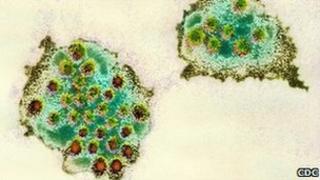 There has been an outbreak of the winter vomiting bug norovirus at Jersey's only hospice, Clarkson House.
The Jersey Hospice charity's fundraising manager, Lynsey Beahan, says there has been one case so far.
Ms Beahan said: "All day hospice patients, volunteers, volunteer drivers and staff have been cancelled on Monday as well."
Norovirus is highly contagious and has symptoms which include vomiting, diarrhoea and abdominal cramps.
There are currently nine residents living at Clarkson House.
Bartlett Ward and the dining room at Jersey's General Hospital have been closed for seven days to stop the spread of the norovirus.
Dr Susan Turnbull, Jersey's medical officer of health, said it had affected patients and about 30 staff.