Jersey's chief minister should review 'town village' decisions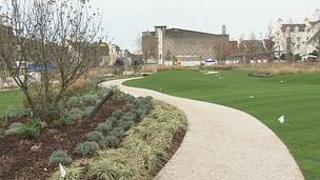 Jersey's Chief Minister has been asked to investigate claims that a £75m development in St Helier was shelved because of planning delays.
Le Masurier Ltd says it dropped its Parkside Village plans after losing confidence in the Planning Department.
The project would have seen parts of St Helier redeveloped with new shops, homes and parking.
David Warr, from the Chamber of Commerce, said the firm's decision to scrap the plan was a "big blow".
Chief Minister, Senator Ian Gorst said he needed to review the complaint before he could comment properly.
Mr Warr said an independent review was needed to find out what had gone wrong with plans for the village.
He wants the Chief Minister to find out if the planning process was to blame and whether it needed to change.
Andy Scate, Chief Executive of Jersey's Planning Department, said his department was being used as a scapegoat and he did not accept Le Masurier's claims the proposals had been delayed by the department.
Mr Warr said to have a major developer expressing "such deep frustration" was worrying for the island's economic health.
Martin Holmes from the Jersey Construction Council said Le Masurier's project was needed to sustain the building trade in Jersey and that a lot of islanders were going to miss out.