Jersey National Trust 'should pay for Plemont headland'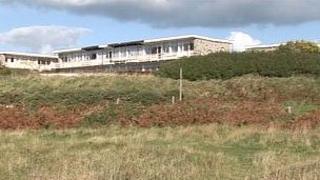 The National Trust for Jersey could be asked to pay back any public money spent buying the Plemont headland.
Deputy Geoff Southern said if the States decides to spend £8m on buying the land back from its current owner it should be paid back by the trust.
Politicians will vote in December over whether to spend the money on the land currently earmarked for new homes.
Celia Jeune, from the National Trust, said it would not have that sort of money available.
The current plan, put forward by Chief Minister Senator Ian Gorst, will see the States purchase the land and then sell it on to the National Trust for Jersey for £2m.
'Time of recession'
Deputy Southern said: "I don't think we can afford, in times of recession, to spend £8m or more on this project just because the chief minister asks us to do so."
Senator Gorst said the burden of purchasing and restoring the land should not just lie with the charity.
He said: "This land will go back and be available for... use by the general public.
"I believe [the National Trust] are the best body to be the custodians of the headland in the future."
Senator Gorst hopes the developer will agree to part with it for no more than £8m, but said that if that fails then the States could embark on the compulsory purchase route.
Deputy Southern said that if it was not a loan to the National Trust for Jersey then the States should not buy the land.
Ms Jeune said they had to work hard to raise the £2m and that without it they would have had to dip into the money they use to pay for staff.
"We have a bottom line we can not go below because we need what resources we have at the moment to fund what we are doing at the moment.
"We can't sell off any of our assets, we are not able by law to sell the land because we have been given it through people's wills," she said.