Ash disease discovered in Jersey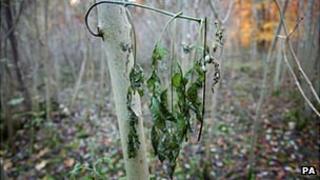 A single tree in Jersey has been found to be infected with ash dieback, the disease that has killed 90% of Denmark's ash trees.
The island introduced an import ban in October following the discovery of the disease, caused by the fungus Chalara fraxinea, in the UK.
Scott Meadows, States head of plant health, said: "It is not known if the trees were infected before arrival."
He said the infected tree and those imported with it had been destroyed.
Mr Meadows said the department was continuing its work to identify other infected trees.
He said: "[We] have not discovered ash dieback disease in established wild Jersey ash trees.
"By isolating and destroying these trees and the surrounding leaf litter, we may be able to contain the disease".
Mr Meadows said the Environment Department was continuing to work with tree organisations, nurseries and growers in Jersey to detect any possibly infected trees.
He said the long term impact on ash trees in Jersey was unclear and research on the disease was ongoing.