Unemployment in Jersey up by 110 in October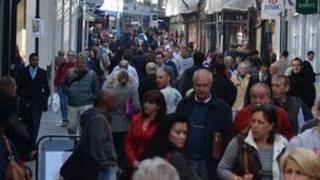 Unemployment in Jersey has risen by 110 in a month to 1,720 in October, the latest States statistics show.
More than a sixth of those registered as unemployed have been out of work for more than a year.
The States Statistics Unit figures showed one in three of those people actively seeking work were under 25.
The report showed the number of people out of work in October was 220 higher than a year ago, and 430 higher than in October 2010.
Social Security bosses say 71% of those out of work are claiming benefits.
There were 350 young people aged 16-19 out of work, which was 30 more than a month earlier.
States statistician Duncan Gibaut said in the report: "Individuals working in some occupations... notably in the finance sector, often seek employment through private agencies and do not register with the Social Security department.
"Such occupations and industries will, therefore, tend to be under-represented."