Bishops vote: 'Women may turn back on the Church'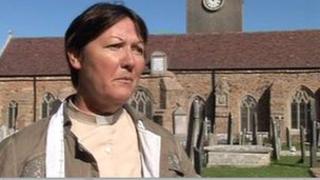 Some Christians could turn their backs on their faith, after the Church of England voted against women bishops, according to a Jersey rector.
The Reverend Gerry Baudains, the first woman rector in Jersey, said some of her congregation had reacted angrily.
The St Martin Rector said she was confident the law would eventually be changed but that it could take at least another five years.
Jersey's Dean Bob Key said the Church should not be swayed by public opinion.
'Very careful'
The Very Reverend Bob Key said: "I think we have to be very careful that we can't have a situation where the culture simply dictates to the Church how it must behave.
"If the Church reaches a conclusion that women bishops are right then that is fantastic.
"If it says 'the surrounding society wants us to do this so we better say yes', once you have crossed that bridge every time the surrounding society changes its mind on issues the Church will be expected to jump into line."
Ms Baudains said until the Church changed the law on women bishops there would be an "awful shadow" hanging over it.
She said the Anglican Church had tried very hard to embrace modern culture but had failed to take note of the human changes in society.
She said she believed the Church should be "inclusive from top to toe".
Jersey Hospital Chaplain The Reverend Maureen Turner said she was still in shock from the decision.
She said she had seen "hurt and bewilderment" among Church members in the island.
Jane Bisson, a Jersey member of the House of Laity, said she was relieved that women bishops were rejected but did not want people to think the Church was out of touch with modern feelings of equality.