Jersey hospital confirms norovirus outbreak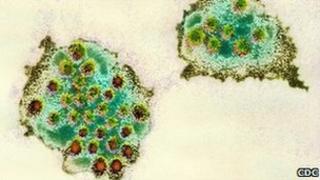 Health officials have confirmed a vomiting bug that closed a ward at Jersey's only hospital is norovirus.
Bartlett Ward at the general hospital is has been closed to admissions since Wednesday and visiting has been restricted.
People are being asked not to visit the hospital if they have symptoms including diarrhoea and vomiting.
A health spokesman said there had been increased incidence of the illness in the community.
'Soap and water'
In a statement, a hospital spokesman said: "If anyone has a planned appointment at the hospital, but have diarrhoea and vomiting symptoms, they are asked to ring and let the hospital know - to avoid norovirus spreading and ensure the infection is contained."
Currently, several patients are still affected but the hospital said enhanced cleaning continued and would be done on a regular basis.
Staff movement has also been restricted and only essential staff have access to the affected ward.
Other areas of the Hospital remain unaffected.
The spokesman said: "The single most effective way to prevent any probable spread of norovirus is with thorough hand washing, using soap and water."