Jersey people to spend night on street to raise money for homeless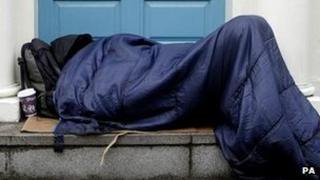 About 80 people will be spending the night sleeping rough in Jersey on Saturday to raise money and awareness of homelessness.
Organiser Jon Hackwood said it would help people appreciate what sleeping rough was like.
Gabriel Olivera spent months sleeping rough in Jersey and said it was the lowest point of his life.
He said he was attacked whilst living on the streets, leaving him with a bloody face and a broken tooth.
The Shelter Trust is one of a number of organisations providing accommodation and support for homeless people.
Mr Olivera said it took him a long time to get over "his pride" and visit the shelter.
Mr Hackwood said he hoped people sleeping on the streets for one night would better appreciate what homeless people go through.
It is not known how many people are currently sleeping rough in the island but Shelter says one in four of the people using their facilities are under age 25.