Jersey West Park pool project public funds approved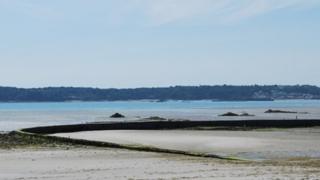 A £100,000 grant towards regeneration of a Jersey seawater pool has been approved by St Helier parishioners.
The West Park pool opened in 1897 to celebrate Queen Victoria's Diamond Jubilee, but has fallen into disrepair in the past 10 years.
A group wants to restore the pool, which no longer retains seawater when the tide goes out, and rename it the Jubilee Marine Lake.
The group said the project would cost £260,000.
The new marine lake would be open to the public for swimming and also be a safe environment for children and disabled people to learn sailing and kayaking.
The group has also had a pledge of £100,000 from the Jersey Development Company.
There is a public appeal to raise the remaining £60,000.
Pierre Horsfall, from the working group, said: "It would make a huge contribution and as it is, it's nothing but a derelict pile of stones."
St Helier Constable Simon Crowcroft said: "The West Park beach has really been lost and that's not just because of development and green seaweed, it's because the West Park Pool... was allowed to fall into disrepair about ten years ago.
"We believe if that pool is repaired and kept in good condition then all kinds of people will profit from the restored lake."
The approval was welcomed by John Searson, who teaches kayaking.
"There's enough room on there to get a complete class at a time onto that lake and get them paddling around," he said.
Historian Geraint Jennings, said originally the idea for the pool came about when the West End Bathing Club was set up in 1893.
It covers an area of 13 vergees (23,381 sq m) and can hold more than 6m gallons of water.
Mr Jennings said: "The Victoria Marine Lake was, it was boasted at the opening ceremony, the largest marine lake ever constructed in the British Isles."
He said many dignitaries gathered for the opening ceremony, including the Bailiff, Crown Officers, Jurats, Constables, Deputies, and the Harbour Master.
He said: "It was not often that so many top hats were seen on the beach."