Jersey politician concerned over disabled parking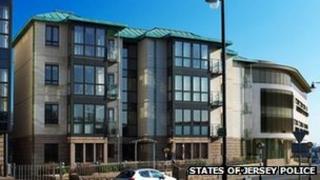 Plans for Jersey's new police station treat disabled people like an afterthought, says a St Helier deputy.
Deputy Judy Martin said she was concerned about the lack of parking for disabled drivers.
If approved by the States of Jersey, the £21m police headquarters could be built in an open area near the Green Street car park in St Helier.
Home Affairs Minister Senator Ian Le Marquand said there would be parking available outside the police station.
Deputy Martin said disabled people may have to book a parking space in a new lay-by if they wanted to visit the headquarters.
She said those with disabilities should not need to plan in advance if they had been the victim of a crime.
"It seems to me somebody saw the flat part of the Green Street car park and said 'sit the police station in there, do it on budget and there will be compromises'.
"Would you want to be involved in a crime with a disability and have to pre-arrange to go down the police station? I think it is insulting," she said.
Senator Le Marquand said that was unlikely. He said they would only have to call if all three spaces outside were taken up.
He said: "In terms of parking there will be a bay outside the police station that will be off the road with three spaces.
"That facility will be shared with disabled parking and workmen coming into the building.
"If there wasn't a space people would have to phone in to the police station to say they have a difficulty parking to get one of the vehicles moved."