Fake Jersey £10 notes found in St Helier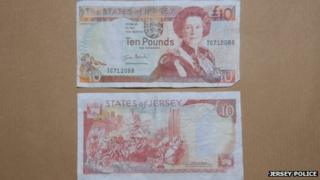 Counterfeit £10 notes have been found in two shops in Jersey.
The forged notes were passed at two shops in St Helier at the weekend, police said.
Insp Harry Carre said if anyone finds a fake note, to hand it to the police as it could be used as evidence to make an arrest.
He advised shops to check all notes, adding typical signs of a counterfeit note included limp paper, blurred writing and the lack of a watermark.
Insp Carre said: "Counterfeiters will target businesses where they know that banknotes are not being checked."