Jersey International Finance Centre plan for Esplanade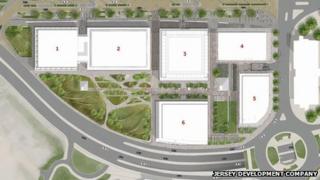 Work to change the Esplanade quarter into the Jersey International Finance Centre could start next year.
Lee Henry, from the Jersey Development Company, said it would take a decade to transform the 520 space car park into a finance hub.
The States-owned firm wants six office blocks with underground car parking and public pathways between the buildings.
Mr Henry said drivers would be able to park on the land next to the Radisson when the work starts.
Three years ago plans were made to remove the Esplanade car park and replace it with offices, flats, bars and shops.
'Difficult position'
But architects thought a finance district and park would fit in better.
It will also include a new town cycle route.
Mr Henry said the company was speaking with 10 existing businesses about the new offices.
He said: "We recognise that we're in a very difficult position in terms of the economy.
"These businesses have been operating from buildings since the 1980s and their leases are coming to expiry.
"So now is the time to make the decision to stay where they are or to relocate and the majority are looking to relocate."