Jersey plant health ask for help over ash dieback disease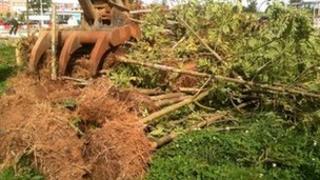 Preventing the spread of an ash tree disease to Jersey will need the help of the public, according to the island's Environment Department.
Scott Meadows, head of plant health, said: "We need to be vigilant... look at the symptoms of ash dieback and keep an eye on the ash trees in your area."
He said anyone spotting possible symptoms should contact the department.
The disease is caused by a fungus and has the potential to kill millions of trees across the British Isles.
Experts have warned it could be as serious as the outbreak of Dutch elm disease, which devastated that tree in the 1970s.
Mr Meadows also urged people not to bring plant material into Jersey, as this may carry the disease.
He said soil and debris needed to be cleaned from clothing, equipment and footwear before anyone returned to the island.
Last month Jersey introduced an indefinite ban on the importation of ash trees, after the disease was discovered in the UK.
It was also found in trees in the neighbouring island of Guernsey earlier this month.
A guide to help identify symptoms of ash dieback is available from the States of Jersey website.