Jersey cow numbers down by about 1,500 over a decade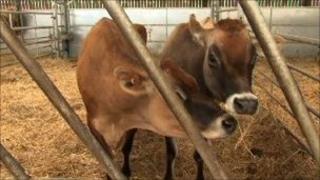 The number of Jersey cows kept in the island is falling according to figures released by the States.
John Jackson from the States of Jersey environment department said there were 1,500 fewer animals in the island than 10 years ago.
He blamed the drop in the number of cows on several dairy farmers who left the industry.
Mr Jackson said more than half of the 5,000 left were used for milking and producing other dairy goods.
He said that the local market was the largest part of the dairy industry in Jersey but that was limited.
"100,000 people on Jersey can't drink massive amounts of milk, they can only drink what they need which is about 9m litres, we currently produce 13m litres," said Mr Jackson.
"The difference between those two figures go into butter, yoghurt, ice cream, all sorts of dairy products."