Plemont homes plan approved by minister Rob Duhamel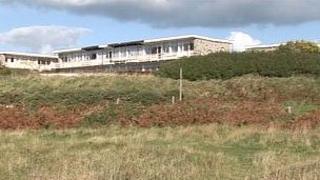 Jersey's planning minister has approved plans for 28 homes at Plemont.
Deputy Rob Duhamel said he had made his decision after considering independent investigator Alan Langton's report.
A public inquiry looked into the plans for the old Pontins holiday site after local environmental campaigners' protests.
Despite the minister's decision, Jersey's chief minister will bring a proposition to buy the site using taxpayers' money next month.
Deputy Duhamel said: "The road to this decision has been a long one.
"I believe that approving the application is the right planning decision for the site and for the island.
"In making it I have given proper consideration to the merits of the application and the importance of the site to many islanders."
'Immense relief'
He said his approval was subject to environmental and landscaping conditions.
Paul Harding, the architect behind the plans, said he felt "a sense of immense relief and delight that what is a very sensitive, carefully crafted scheme has been seen to be compliant with the planning laws and policies".
"We can now get on making a massive improvement and a significant environmental benefit at Plemont."
Senator Ian Gorst wants to buy the site for £8m, then sell it for £2m to the National Trust for Jersey, which would return it to nature.
Mr Harding said the owner was not prepared to sell the site for £8m.
But the chief minister's proposal said if a fair and proper price could not be agreed between the States and the owner, the land should be bought by compulsory purchase.