Cracks found in St Helier Marina in Jersey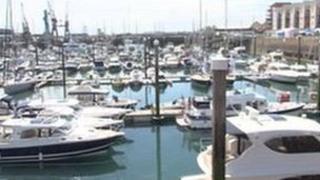 Cracks have been found along the corner of St Helier Marina in Jersey.
A team from Transport and Technical Services carried out temporary repairs to the south west corner at low tide.
The harbour authorities said the work was due to be finished on Wednesday and boats moored in the marina have not been affected.
There are also plans to replace the ramp next to the lifeboat station with walkways to make it safer to get to the lifeboats in the marina at Albert Pier.
A spokesman from Jersey Marinas said getting rid of the old ramp would also increase space by closing a gap in the sea wall.