Jersey charities to sell Channel Islands lottery tickets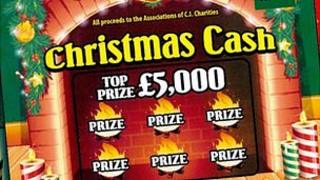 Islanders are being encouraged to buy their Channel Islands Christmas Lottery tickets directly from Jersey charities this year.
Members of the Association of Jersey Charities and its counterpart in Guernsey benefit from the proceeds of the annual draw.
Lyn Wilton, from the association, said she was pleased the charities had been given permission to sell the tickets.
She said the charities would earn money from commission made from ticket sales.
Ms Wilton said: "We are very grateful to the Economic Development Ministry for allowing our charity shops to do this.
"Hopefully the season of goodwill will encourage as many people as possible to buy theirs from one of the shops, thereby giving those charities a double chance of benefiting.
"Lottery funding is vital for our members and how much we are able to distribute is dependent on the success of the Channel Islands Christmas Lottery."
This year's Channel Islands Christmas Lottery draw will be held on Thursday, 20 December.
Last year's jackpot was £751,500 - the highest amount ever to be given away, beating the previous high of £750,000 won in 2010.