Jersey building fire 'was deliberate' says fire service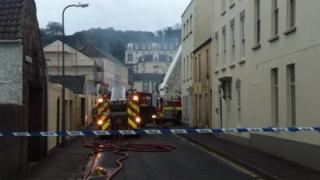 A fire in an abandoned building in St Helier is being treated as arson, Jersey Fire and Rescue Service said.
Homes and businesses in the Simon Place area were evacuated due to a fire at the site on Sunday.
Firefighters could not enter the building to ensure all the embers had been put out as it was too dangerous and the fire re-ignited on Monday.
Marc Le Cornu, station commander, said the fire was being treated as "deliberate".
He said the abandoned building had been empty for a long time and had no electricity supply.
The property was a former photography studio near the old Ann Street Brewery and during the fire its roof and part of the inside collapsed.
Mr Le Cornu said the fire restarted as "a little ember caught in a connecting timber building, which connects the main house to an outbuilding at the back".
He said investigations would be carried out into the fire, but he asked islanders to avoid the building because it was very unsafe.