Motorbikes to take part in Jersey's Remembrance Service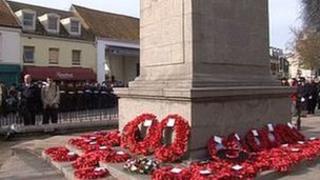 Motorbikes will take part in Jersey's Remembrance Day Service for the first time this year.
Maj Bernie Baldwin, from the Jersey branch of the Royal British Legion, said bikers had always held their own event and raised a lot of money for the charity.
He said for that reason he thought it was time to include them in the event.
He said the bikers would do a drive-past at the end of the service at the Cenotaph in St Helier on Sunday.
Meanwhile, the Dean of Jersey is leading a Festival of Remembrance at the Town Church later on Saturday.
The Very Reverend Bob Key will be joined by the Lieutenant Governor and the Bailiff, with music from La Ronde Concert Band and the choir from the Musical Originals.