High rents mean independent shops 'unable to trade'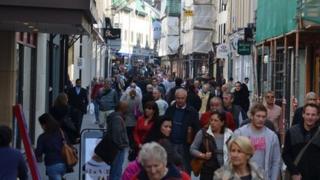 High rents mean independent retailers are not able to open on St Helier's main shopping streets, says Jersey's Town Centre Manager.
Richard McKenzie said rents were often too high in King and Queen Street.
He said 4% of shops in St Helier were currently empty, which was lower than the average in the UK high street.
Mr McKenzie said he believed independent traders were still an important part of the shopping experience in St Helier.
Jersey has a Rent Control Tribunal which allows tenants to appeal against high rents, but it does not apply to commercial properties.
Mr McKenzie said: "Gradually the independent retailer, who is still significant in the town centre, has not been able to trade in King Street or Queen Street area, but thankfully we have still got a lot of them."
He said this year had been tough for Jersey retailers and parking and the internet was the main cause of frustration.
Mr McKenzie said he hoped new initiatives, such as the changes to parking, would increase footfall in town.
Jersey's transport minister, Deputy Kevin Lewis, has been working to improve parking in St Helier.
He has extended the shoppers parking initiative at Ann Place until the new year, and changed the payment system at Sand Street.