Jersey minister changes grant process for students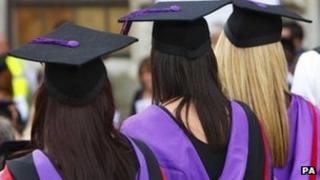 Some Jersey students may have to pay more for their university education after a change in the way grants are calculated.
Currently for students whose parents separate, the grant is worked out based on the income of the parent the student lives with.
Education Minister Deputy Patrick Ryan said both parents' income would now be taken into account.
He said this would save his department £500,000 per year after three years.
Deputy Ryan said: "If a couple divorce, it is often the case that only one partner's income is taken into account - the partner with care and control of the student.
"This is a source of significant concern in Jersey, where 38% of parents sending their children to university notify the department that they are 'single parents' for the purposes of student finance.
"As a result they tend to obtain higher levels of States support than married couples who have two incomes."
Married couples
Deputy Ryan said where parents had separated or divorced, the grant level would be assessed on the gross household income of both parents.
Concerns were raised by deputies Trevor Pitman and Judy Martin, who said the partner would simply disappear and perhaps a rich parent with whom the child did not live would not have their income assessed.
Deputy Martin said it was not fair that a co-habiting partner be expected to put someone else's child through university.
Deputy Ryan said there could be some problems but overall the system was fairer towards married couples who do stay together.
Penny Carter, from the Jersey College for Girls Parents Association, said the States should consider offering student loans to help cover the costs of increasing fees.
She said some universities including Cambridge had said they would not cap Channel Islands fees and charge full international rates.
The change will start for new applications for higher education grants from September 2013.