Jersey States members 'should forgo pay rise'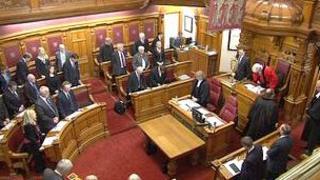 Six States members have turned down their proposed pay rise of £818.
Deputy Jeremy Macon has written to the Treasurer of the States to decline the pay increase.
And the States Employment Board (SEB), made up of five politicians who oversee States workers pay and conditions, has unanimously agreed to forgo the pay rise.
Chairman Senator Ian Gorst said the board was calling on all States members to forgo the rise.
He said an £818-a-year pay rise would not be justified during a time of pay restraint for other States employees.
'Exceeds its remit'
But Deputy Geoff Southern said: "The States Employment Board are not my employer, nor the employer of any other member.
"It has no place in unilaterally refusing the rise on my behalf and exceeds its remit in doing so."
An independent States members pay review panel had suggested politicians get a "modest" pay increase bringing their wage to £42,000 a year from 1 January.
Senator Gorst said the SEB would be writing to the privileges and procedures committee (PPC) and the review panel, to consider the wider structure of States members' pay.
He said it would include "the possibility of differentiated pay levels and pensions for States members."
But Deputy Southern said: "The Chief Minister may express an opinion that differential pay and pensions be considered.
"But he has no right to ask the PPC to do anything apart from with the agreement of the Assembly."