Islanders in Jersey are asked to help shape the States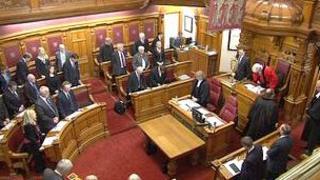 People in Jersey can help shape the island's government at a series of meetings over the next couple of weeks.
Draft proposals for States reform have been sent to homes.
There are four main recommendations from the Electoral Commission including reducing the number of elected members in the States to 42.
The commission also wants to divide the island into six large constituencies for the elections, instead of it being divided into parishes.
Islanders are invited to decide in a referendum whether the constables should remain in the States, and whether all States members should be elected at a general election to serve a four year term of office.
The public meetings will be held in the parish halls of St Brelade and St John on Tuesday, St Helier and Trinity on Wednesday and St Martin and St Clement on Thursday, at 19:00 GMT.
On 13 November the meetings will be held in St Ouen and St Peter, in Grouville and St Mary on 14 November and in St Saviour and St Lawrence on 15 November.